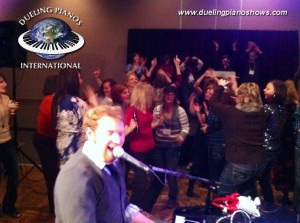 Dueling Pianos International on a College Tour for "Welcome Week"
Dueling Pianos International took off again during the beginning of college welcome month, visiting many campuses on the East and West coasts! Performance after performance they tickled the ivories and astonished many students, faculties, and families of these college students. Not one single performance is ever the same, and boy did the artists leave with quite the reputation! The sing a long, clap a long atmosphere got mostly everyone out of their seats, the energy was INTENSE!!
Maureen Doyle at Legends of Notre Dame Nightclub said, "Everyone in attendance had such a great time! We will definitely be booking with Dueling Pianos again in the near future."
Pat Bristor from Waynesburg University said "Everything went great! I cannot believe how much fun our students and parents had! It was a really wonderful time."
Margaret Zimmer from Mount Aloysius College stated that "Everyone in attendance was up and off of their feet. The students loved it as much as their families did. People were talking about it for days after the show. We are looking forward to doing it again next year!"
Dueling Pianos International visits Colleges, Corporate Events, Fundraisers, Weddings and more all over the United States! We are guaranteed to please you as well as all of your guests at the event! If you are looking for Dueling Pianos then book us by calling 1-800-700- S - I - N- G!!! We are looking forward to speaking with you soon!