All Brides and Grooms who contact Dueling Pianos International have one thing in common -- they want to offer their guests something DIFFERENT. Watching a Dueling Pianos performance in a traditional Dueling Piano bar is a unique and exciting experience. Likewise, Dueling Piano wedding receptions can be a great time. However, if scrupulous attention is not given to the itinerary of events and the physical layout of your facility, your Dueling Pianos Wedding Reception may not yield the energy and excitement that you witnessed at Crocodile Rocks, Howl at the Moon, Ernie Biggs or RumRunners.The consultants at Dueling Pianos International have years of experience in Wedding Entertainment and have served as Wedding Planners at Lorio Ross Sterling Entertainment, the largest Wedding Entertainment agency in the Midwest.
For more information on planning a Dueling Pianos Wedding Reception, please Contact Us online, complete our Free Online Quote form, or call 1-800-700-7464 (SING).Setting up a proper environment for a traditional wedding reception is a relatively simple task: Cocktail Hour followed by dinner, toasts, featured dances and then it's party time! This formula has been used for centuries and is always successful if you have hired professional entertainers to facilitate each event of the evening. However, one must plan for a different series of events when considering featuring the Dueling Pianos concept at a wedding reception.When considering Dueling Pianos for wedding entertainment, the first question to ask is, "How does dueling pianos differ from a band or DJ?" The answer is simple: A traditional band leader's main objective at a wedding reception is to get people on the dance floor and KEEP them on the dance floor. Although over the past 20 years the dueling pianos concept has evolved to include dancing, getting people on the dance floor is NOT the main objective of a good Dueling Pianos team. So, how is dancing included in a good Dueling Pianos Wedding performance?THE DUELING PIANO WEDDING RECEPTION PERFORMANCEA good Dueling Pianos performance will consist of the following, IN THE FOLLOWING ORDER:
2 or 3 opening songs where the audience can sing or shout out the "hook" of a song
The entertainers should, in a fun and entertaining way, "outline" the Dueling Pianos Concept for those in the audience who have never witnessed a piano performance of this kind.
Entertainers will then perform several requests from the audience
Entertainers will then "call out" members of the audience to the stage for light-hearted roasts.
Entertainers continue to take requests and incorporate songs which showcase their talent
The last 20 or 30 minutes of a good Dueling Pianos Wedding performance should be performed in a way that welcomes the entire audience to the dance floor allowing the entertainers to end their featured performance and make a natural transition from Dueling Pianos to DJ entertainment.
Although the video below is of a smaller casual Dueling Pianos Corporate performance, the above 6 steps are followed.
THE DUELING PIANOS WEDDING RECEPTION (PHYSICAL LAYOUT OF FACILITY)When planning a Dueling Pianos wedding reception, realize that some of your guests will want to start dancing immediately. Let's face it, you can't make your guests remain seated at your reception; some people will actually feel cheated out of their evening if they can't dance whenever they wish. So, how do we allow guests to dance without disrupting the featured sing along / comedy performance for everyone else? Here's how:It is common practice for guests to stay off of the dance floor until the Bride and Groom have had their first dance. At a Dueling Pianos Wedding Reception, it's best to feature the Father/Daughter, Mother/Son, Bridal Party and Bride and Groom dances BEFORE the Dueling Pianos performance begins. This will allow any guests who may wish to dance during the Dueling Pianos performance to do so without breaking traditional protocol.
Dueling Pianos International likes to recommend the East Coast Style Wedding for this very reason. For more information on the East Coast Style Wedding, please CLICK HERE.Placement of the dance floor must also be given careful consideration. Whenever possible, the dance floor should be place to the side of the stage (seen below) so guests who wish to dance can do so without blocking the view of those who wish to participate in the Dueling Pianos show.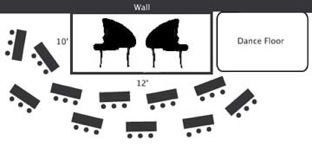 Perfect setup for a Dueling Pianos Wedding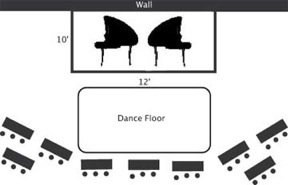 Incorrect setup for a Dueling Pianos Wedding
Dueling Pianos / Wedding Receptions and "Tipping"One of the concerns all Brides and Grooms have when planning a Dueling Pianos wedding reception involves the notion of "tipping". In traditional Dueling Piano venues, it is no secret that the entertainers incorporate tipping into their performances. Some entertainers will take the notion of "tipping" to the point of upsetting people watching the show. Dueling Pianos International NEVER allows their entertainers to place tip jars on pianos at Corporate/Private or Wedding Dueling Piano performances. Simply put, asking your guests to tip the entertainers at your wedding reception is in poor taste. At the same time, the concept of Dueling Pianos focuses on "letting the audience be in control of the show" - to a degree. If "tips" are removed from the performance, a certain element of fun and excitement is removed from the performance. For this reason, we like to offer a recommendation of allowing the entertainers to incorporate "tips" in the performance while making it abundantly clear that ALL tips will be donated to the Bride and Groom's favorite charity. We have found that 50% of our Brides and Grooms find this idea appealing. In any event, the choice is completely up to the Bride and Groom.In summary, Dueling Pianos provided by Dueling Pianos International is excited to be a part of your wedding reception. Our wedding entertainment consultants will work with you to develop an itinerary of events and a suitable physical layout of your banquet facility that will create a unique atmosphere of class and excitement. Call us today at 1-800-700-7464 (SING) to start planning your dream wedding today!